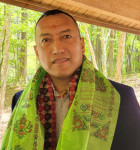 Dear Community Members,
My hearty greetings and Namaste!!
First of all, a very warm thank you for trusting me with the responsibility of leading our tenacious Nepalese community for the upcoming two years (2021 – 2023). I have been deeply humbled by this responsibility bestowed upon me and I pledge to work hand in hand with everyone to fulfill all our aspirations and commitments. 
I was warmly welcomed by the Nepalese community residing in Georgia with open arms when I arrived here many years ago and immediately felt at ease in this great peach state that I call home now. The camaraderie, cohesiveness, and volunteerism spirit of the community at large in Georgia also motivated me to volunteer and get involved in the community affairs. I am deeply honored to be a part of this great Nepalese community that gave me the opportunity and the motivation to be involved in volunteerism for the Nepalese society at large. I cannot thank enough for this opportunity.
With the community growing by leaps and bounds each passing day, also came challenges as well as opportunities for stronger collaboration to work towards fostering and preserving the Nepalese language, customs, cultures, and heritage that define our uniqueness here in the United States. I feel very proud of being actively engaged and an integral part of this movement to promote and preserve our Nepalese identity. Celebrating festivities with family, friends, and the Nepalese community at large, sharing the life values, culture, and traditions within our own community and collaborating with other communities, helping preserve our language, heritage, and customs and transfer to the younger generation are things that I am very proud of. All this has been made possible because of the Nepalese Association of Georgia (NAG), which has brought us all together under one common goal. I heartily thank all the past community leaders, members, and visionaries who saw the need and the opportunity to establish NAG as an organization that catered to the Nepalese community. Without their vision and perseverance, this organization NAG would not have been what it is today. I cannot thank enough for their efforts and contributions.
We have come a long way but we still have a long way to go. We cannot rest assured on the past laurels, rather have to further the mission of NAG, building on the past achievements and also learning from past mistakes. It is our organization, every one of us in the community should feel the ownership of this organization, be it if you are a registered member or not. As NAG is a member-based community organization, I do request with all our Nepalese community members to either get their general or life memberships, as our strength is in the number of our organizational membership.Let us forget our differences, if we have any, let us come together, and make NAG an example among myriad of Nepalese organizations throughout the United States. I know we have and I know we can. 
Thanking you,
Bhabindra Basnet
President, Nepalese Association of Georgia