Coronavirus Disease (COVID-19) Guidance
Avoid touching your face, often wash your hands, maintain social distance.
The state of Georgia quarantine sites/isolation hotline
A Georgia resident who has tested positive for coronavirus and need a place for self-isolation/quarantine (meaning if you don't have any other means of quarantine), please contact Georgia's Public Health Emergency Line: 1-866-782-4584 OR Georgia's COVID-19 hotline: (844) 442-2681 (only operational during business hours). The state government agencies will try to help you find a spot in one of the state's quarantine sites/isolation facilities.
But always remember, if you are experiencing coronavirus symptoms, the first step is to call your primary doctor. If you do not have a primary doctor, please call your nearest urgent care clinic or a federally qualified health center, or FQHC.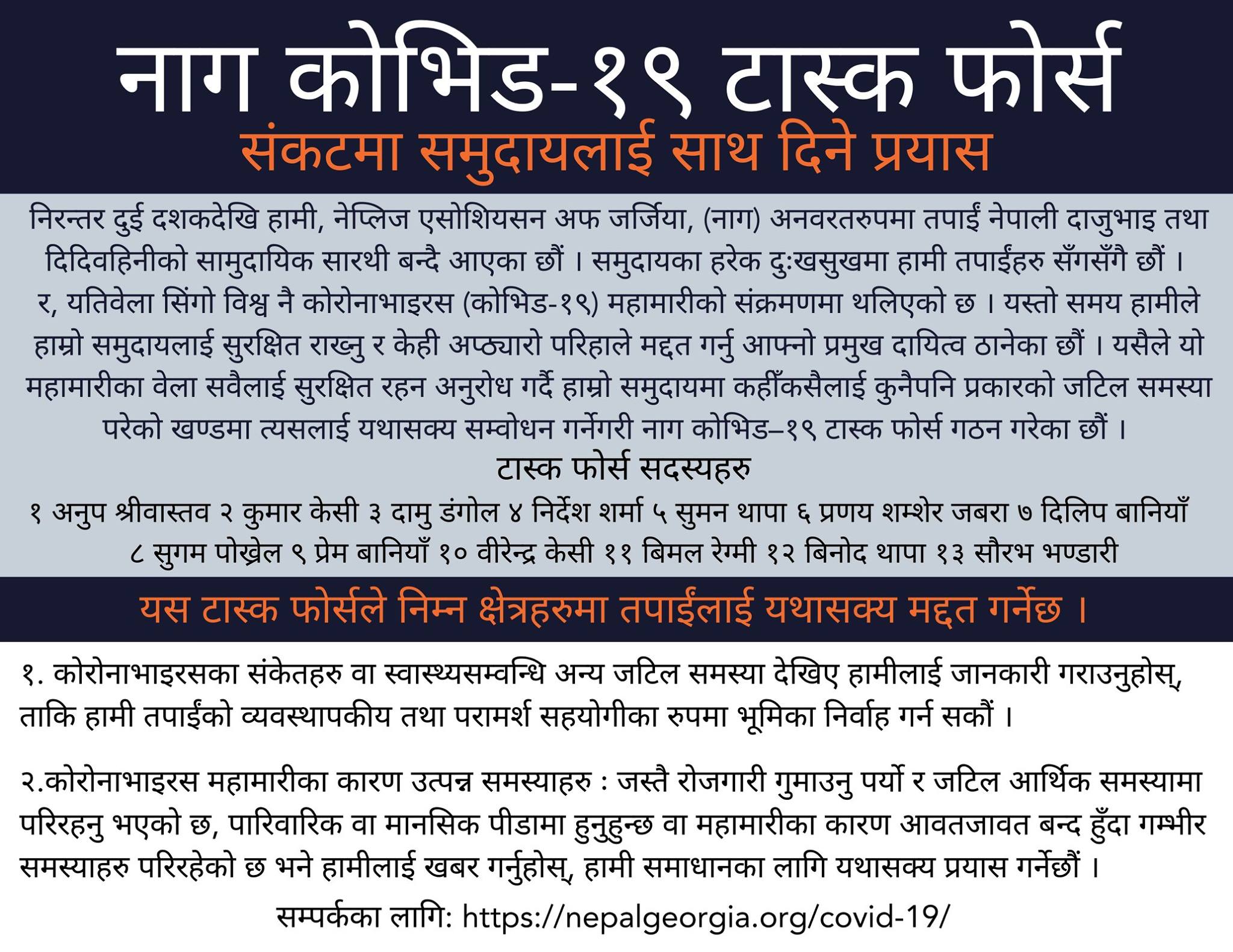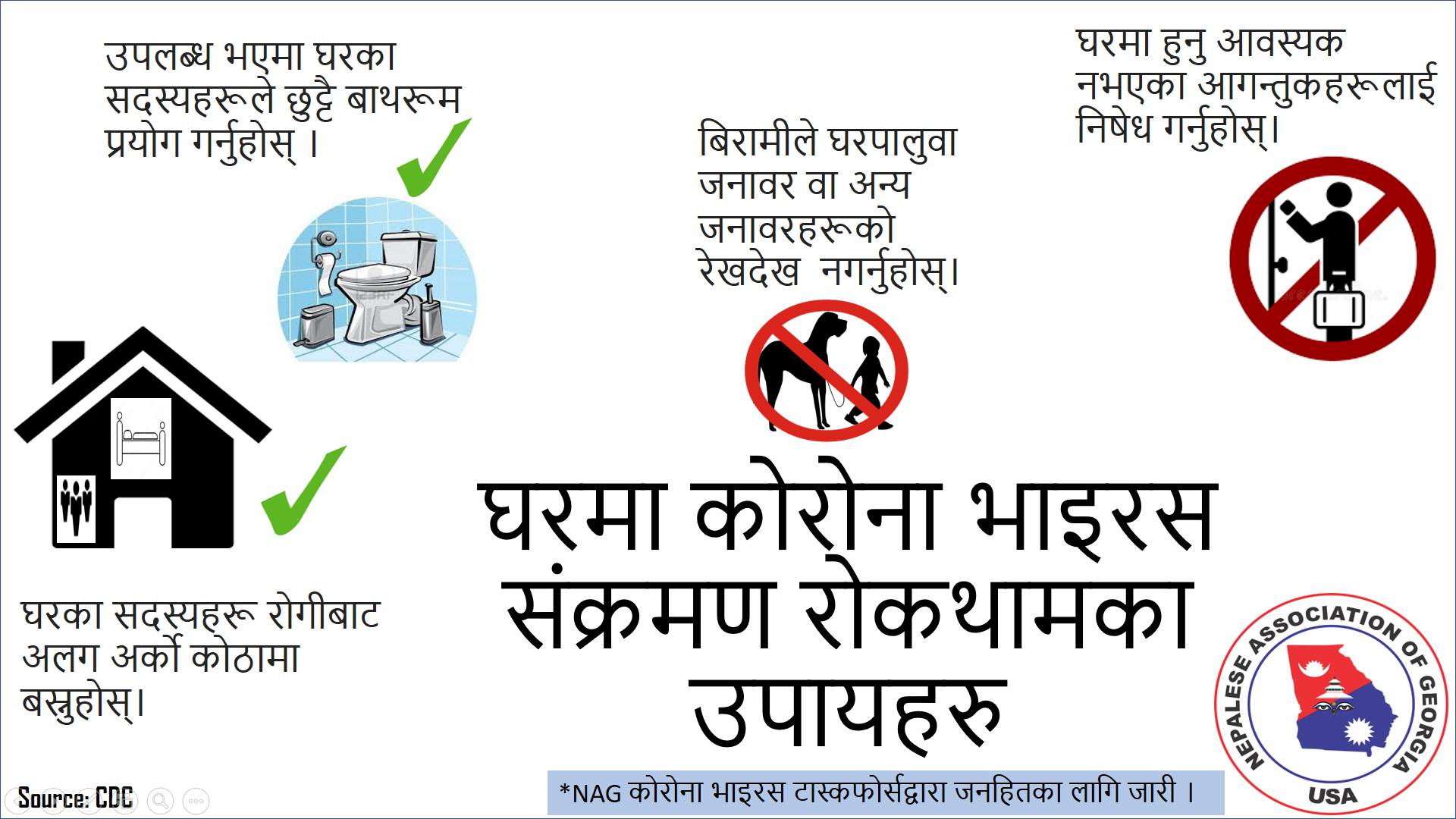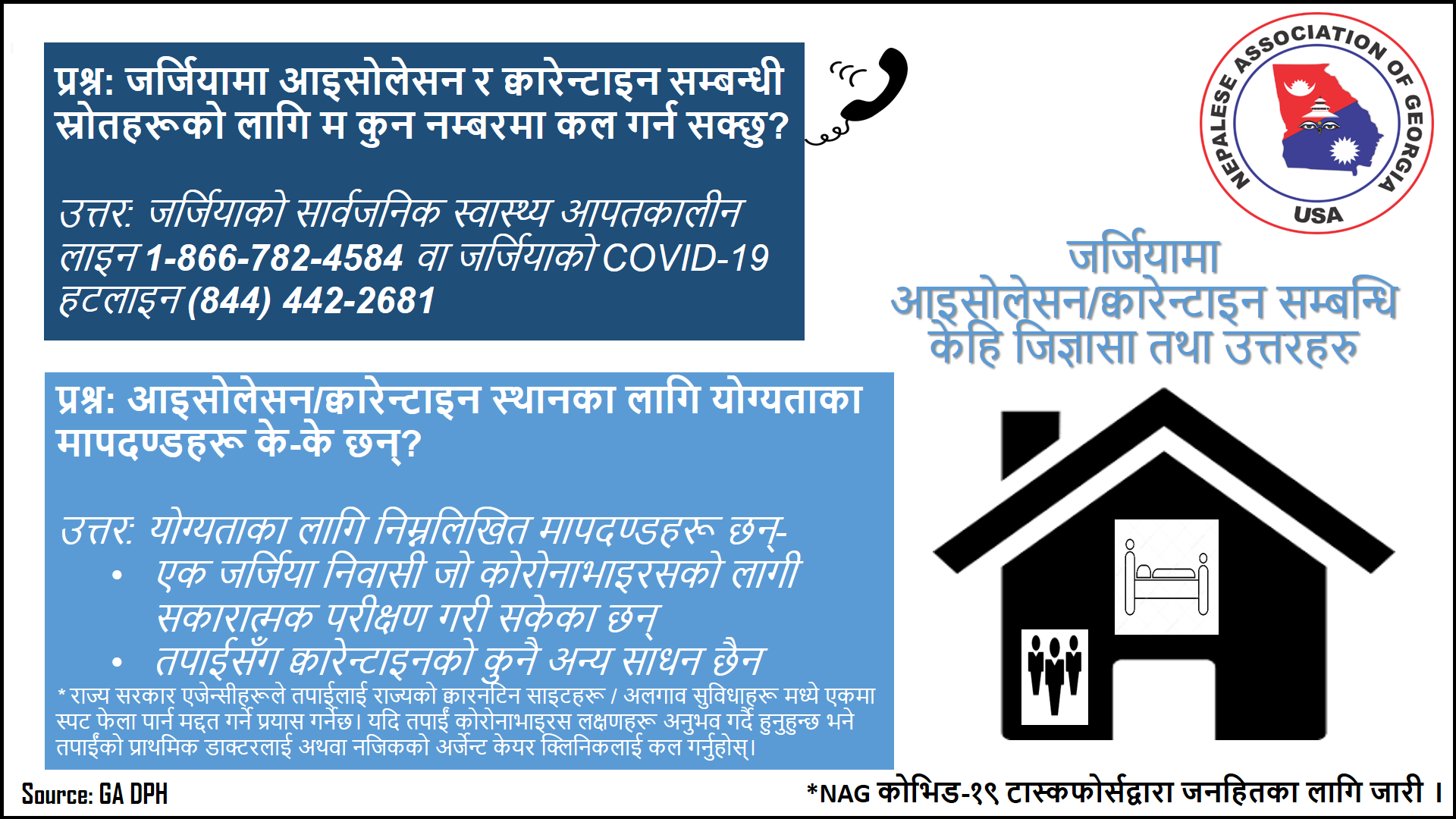 How to Protect Yourself
There is currently no vaccine to prevent coronavirus disease 2019 (COVID-19).
The best way to prevent illness is to avoid being exposed to this virus.
The virus is thought to spread mainly from person-to-person.

Between people who are in close contact with one another (within about 6 feet).
Through respiratory droplets produced when an infected person coughs or sneezes.

These droplets can land in the mouths or noses of people who are nearby or possibly be inhaled into the lungs.
Take steps to protect yourself
Clean your hands often
Avoid close contact
Take steps to protect others
Stay home if you're sick
Cover coughs and sneezes
Wear a facemask if you are sick
Clean and disinfect
COVID Resources
    CDC.gov
    WHO.int
    Coronavirus.gov
    USA.gov/Coronavirus
    DPH.georgia.gov
COVID Task Force Helpline

    Phone: 678-310-9131 (9AM – 9PM)
    Email: nepalgeorgia@gmail.com
COVID Task Force Volunteers
    Anup Srivastav
    Bimal Regmi
    Binod Thapa
    Birendra KC
    Damu Dongol
    Dilip Baniya
    Kumar KC
    Nridesh Sharma
    Pranaya Rana
    Prem Baniya
    Saurav Bhandari
    Sugum Pokharel
    Suman Thapa