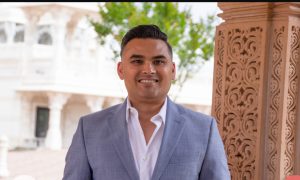 Dear Community Members,
Warm greetings and Namaste!
I would like to express my sincere gratitude for entrusting me with the responsibility of leading our resilient Nepalese community for the next two years (2023-2025). I am deeply honored by this opportunity and commit to working closely with all of you to fulfill our collective aspirations and commitments.
When I first arrived in Georgia in 2001, I was embraced with open arms by the Nepalese community here, and I immediately felt at home in this wonderful peach state. The spirit of camaraderie, unity, and volunteerism that permeates our community in Georgia inspired me to get involved in community affairs. I consider it a privilege to be part of this incredible Nepalese community, which has given me the opportunity and motivation to contribute through volunteerism for the betterment of our society. I am truly grateful for this chance to serve.
As we continue to grow as a community, we encounter both challenges and opportunities to collaborate and preserve our unique Nepalese identity here in the United States. I take immense pride in actively engaging and being an integral part of the movement to promote and preserve our Nepalese identity. Celebrating festivals with family, friends, and the wider Nepalese community, sharing our values, culture, and traditions within our own community, as well as collaborating with other communities to safeguard our language, heritage, and customs for future generations, are accomplishments that I cherish. All of this has been made possible through the Nepalese Association of Georgia (NAG), which has united us under a common goal. I wholeheartedly thank all the past community leaders, founding members, and visionaries who recognized the need and opportunity to establish NAG as an organization dedicated to serving the Nepalese community. Without their vision and perseverance, NAG would not be the thriving organization it is today. We owe them an immense debt of gratitude for their efforts and contributions.
While we have made significant progress, we still have a long way to go. I believe that we can build upon NAG's mission and learn from both our successes and mistakes. NAG is our organization, and every member of our community should feel a sense of ownership, whether or not you are a registered member. Since NAG is a membership-based community organization, I kindly request all Nepalese community members to consider becoming general or life members, as our strength lies in the number of our organizational membership. Let us set aside our differences, if any exist, and come together to make NAG an exemplary organization among the many Nepalese organizations throughout the United States. I believe in our collective potential to achieve this.
Thank you for your continued support, as it plays a vital role in fostering a robust and united community. Your support and dedication help us build a strong community.
Binod Thapa
President, Nepalese Association of Georgia