Message from President of NAG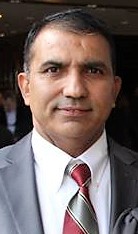 I would like to thank you all the members of Nepalese association of Georgia for electing me as a president of our beloved organization (NAG). I am honored to be the President of NAG Executive Board for next two years.  I have been involved in NAG starting from the establishment of NAG and I have learned from you over the years that have helped me grow and get elected as president.
Whether you are new to NAG or a life member, I encourage you to become involved in NAG activities and make NAG a successful and effective organization among Nepalese communities.  To become familiar with NAG and its activities please visit NAG website in regular basis and be involve in cultural, social and sports related activities.  Your expertise, creative ideas and dedication will be valuable to our organization.  With the collaborative efforts we can make a difference in helping our community and new comers from Nepal who may need our support to establish themselves in this great state of Georgia.
NAG was established as a non-profit organization with the mission of preserving and promoting Nepali heritage and culture and consists of more than 1,000 active members. Over this past few years NAG have seen tremendous growth in its membership and activities and we expect this to continue in coming years. Please consider joining NAG if you are not a member and if you are a general member, consider to become a life/family member. I welcome you in NAG and request you, your family and friends be active and involved in NAG.  I wish you all happy and prosperous days ahead and I believe we will enjoy together in this great organization.
Sincerely,
Keshab Sharma
President 2017- 2019