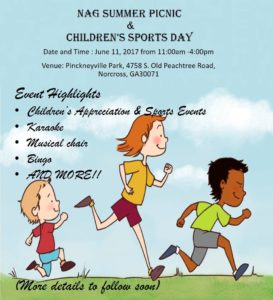 Dear Nepalese Community,
Please mark your calendar, June 11, 2017 – A Summer Picnic !
Please join us for a fun-filled picnic this June 11, and to enjoy the refreshing events with your friends and families. We will be also honoring our students, our future pillars, graduating from Elementary, Middle and High schools in May 2017 at the event.
Summer Picnic Venue
Pinckneyville Park
4785 S Old Peachtree Road
Norcross, GA 30071
From 11:00 AM to 4:00PM
Admission: $5.00
Please email or text us the name of 2017 graduates with following information at your earliest convenient to: keshavsharma1488@gmail.com or 770-845-1488.
1. Full Name
2. School Name
3. Grade Level (Elementary, Middle or High School).
Registration for Children's Sports & Beach Volleyball Tournament will be done on the day of the picnic.
Thank you,
Keshav Sharma
President, Nepalese Association of Georgia
To view Summer Picnic and Children Sports pictures, please click here.